Submitted by

Mz22

on March 7, 2019 - 10:48am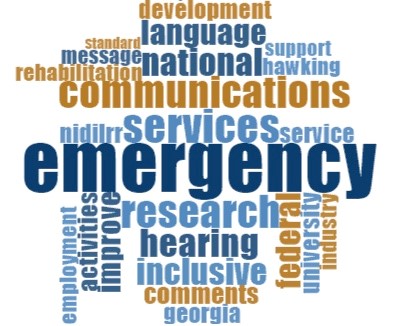 This past year's hot topics included the increased development of wireless technologies and next-generation connected devices, continued expansion in disability-focused research, emergency communications access, and improved access to assistive devices and public spaces. The top five words by frequency in the 2017 and 2018 TDPH's were similar, varying only slightly. In descending order, the top five most cited words for 2018 were: emergency, services, research, communications, and inclusive. The topic that experienced the greatest shift from 2017 to 2018 was research, shifting from 19th in 2017 to 2nd in 2018. 2018 had a greater frequency over 2017 on the topics of legislation, research, and services/technologies, and innovation. Also, noteworthy, the word information was our 3rd most cited word in 2017 and did not even reach the top 50 2018 list, indicating a shift in focus from digital content to digital devices/services.
This year's influx of research regarding best policy and practices demonstrated progression towards an inclusive global environment, and legislative and regulatory activities were responsive to many of the advances in technology. This year was also full of exciting celebrations as we acknowledged the 28th anniversary of the Americans with Disabilities Act, the 50th anniversary of the universal symbol of disability, the 40th anniversary of NIDILRR, and International Persons with Disability Day. These monumental occasions were peppered with countless celebratory, awareness, and capacity building activities.
Throughout 2018, the FCC sought stakeholder input on regulatory, technical and consumer issues related to accessibility in broadcasting, the Twenty-First Century Communications and Video Accessibility Act (CVAA) Biennial report, and emergency communications. Regarding the latter, the FCC released a report, Refresh the Record on Facilitating Multimedia Content in Wireless Emergency Alerts (WEA), that supported the inclusion of multimedia content in WEA messages. Later in the year, the FCC approved FEMA's request for a waiver allowing them to conduct the first nationwide test of WEA in September of 2018. The Wireless RERC asked personnel and partners to observe the test and to describe their experiences. Commonly reported issues with the WEA test included: accessibility, inconsistencies based on carrier and or device, and the message format.
The FCC also ruled on "next generation" broadcast television standards. In the Authorizing Permissive Use to the "Next Generation" Broadcast Television Standard Report and Order, the next-generation transmission standards became effective in March 2018. In the spring of this past year, the FCC released a proceeding, In the Matter of Misuse of Internet Protocol (IP) Captioned Telephone Service (CTS); Telecommunications Relay Services and Speech-to-Speech Services for Individuals with Hearing and Speech Disabilities, that allowed for the use of automated speech-to-text technologies for the provision of captions on IP-CTS. The FCC also adopted a Report and Order, In the Matter of Revisions to Reporting Requirements Governing Hearing Aid-Compatible Mobile Handsets and required that the service providers should offer hearing-aid compatible devices, a rating of these devices, and an explanation of the rating system. The FCC published many other rulings and revised regulations including improving wireless resiliency in the wake of a disaster.
In the legislative realm, there was constant discussion and votes on several bills. The American Bar Association's (ABA) House of Delegates brought forth House Resolution 116C that expanded Title II and Title III of the ADA to include in its interpretation of public accommodations, digital "places," devices and applications. It was unanimously approved. Earlier in the year, Senator Casey [D-PA] introduced the Office of Disability Policy Act of 2018 [S. 3261] to establish the Office of Disability Policy in the legislative branch. The bill was assigned to the Committee on Homeland Security and Governmental Affairs for further review. The House also passed The Federal Aviation Administration Reauthorization Act of 2018, [H.R. 302], now Public Law 115-254, which improves air travel for consumers with a disability by correcting access barriers. Congress also debated and addressed autonomous vehicles legislation and bias in artificial intelligence. Meanwhile, the states' assistive technology programs expanded last year with some states incorporating smart technologies such as smart home devices and robotic telepresence among their offerings.
This past year was also imbued with technological advances from different startups, major technological companies, and scientists. Some of these developments include Mapp4All, Right Hear, Hopkins PD App, AlterEgo, Social Robots, TalkBack, "Smart" prosthetics, and advanced assistive garments such as gloves, glasses, and pants. These developments, some on the market and others still in the creation phase, show great promise for improving access and inclusion of individuals with disabilities.
2018 at the Wireless RERC was eventful! We hosted a workshop, attended and presented at conferences, and engaged with industry stakeholders, academics, practitioners, and service organizations to discuss prevalent issues in the arena of technology for persons with disabilities. Wireless RERC researchers submitted comments to the FCC discussing the accessibility of mobile phones and other emerging technologies and followed with a Mobile Phone Accessibility Report to support the initial response. We also produced reports ranging from workforce participation of people with disabilities to the usability of next-generation wireless devices. Equally as active in technology and disability-related projects and product development were Georgia Tech faculty who were also cited frequently in hearings. The Wireless RERC is proud of the progressive research conducted at the Center for Advanced Communications Policy and will continue to advance accessibility towards the social inclusion of people with disabilities.